Languages of Bedford!

In July, intercultural author and illustrator Desiree Bashi collaborated with the Higgins Museum to launch the Covid 19 Art and Language project, which focused on the languages and culture of Bedford's community during the pandemic. The resulting artwork will be evaluated for inclusion in The Higgins Bedford's contemporary Covid19 History archive as a tribute to the heroes of our local community.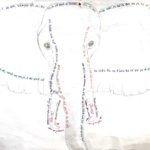 Covid 19 Art and Language has supported, celebrated and brought to life languages and stories across Bedfordshire.

Sarika Shah, Creative Writer, Marketing and Public Engagement at Ananda Arts Bedford said
"There's too much of a rich history and backstory to properly do it justice but in summary. Mum came here as a refugee during Idi Amin's dictatorship. Dad and my uncle came to England to build a better life. The story in my artwork briefly touches on these aspects and how, as a result, my sister and I were born in England but have grown up learning Gujarati and knowing words of Swahili and of course fluent in English."

The project invited the community to increase their confidence and love in their culture and languages:

Bipinchandra Shah, secretary & treasurer at Ananda Arts Bedford says " during this project my children realised they wanted to hone their mother tongue properly. My children used to hate going to Gujarati classes but they continued because they wanted to maintain this bond and communication with their uncle. When creating this artwork, they found themselves wistfully looking back and wishing they had tried harder to remember what they learnt to write sentences for the Covid 19 Art and Language, struggling to grasp the letters and alphabet, I have helped them, sparking some really good conversation

Through the art project, the community had increased their family connectivity, with the effect of improving communication around family and culture.
Teresa Laviniere advocates for the rights of children with educational needs, says " Wonderful exercise. Made us chat about where we are from. We had some wooden letters and she did F for French-speaking island D for Dominica J for Jamaica and P for patois which we speak in both countries.
Desiree Bashi said "The community really made full use of the project and I am delighted that this, along with all their languages and culture, has been recognised and made available to the community"

"The project gave my children a topic to want to talk about for days," Yousuf said dad of three

A mum thanked "for giving our children the opportunity to show their family mixed culture to the community"

The project was also an opportunity to thank those that have been serving the community during the lockdown:

Sarika said "My dad has worked overtime because the job he does could not have been done from home and my mum is a nursery nurse and is vital to the teaching, development and nurturing of future little minds. My dad also owns an independent charity through which we have supported and aided the vulnerable and those isolating during this time as well as providing warm home-cooked meals for them and key workers such as the fire service and the local police in Bedford.

One of the children said, " My grandmother speaks Shona and she is a nurse. She works at the hospital where they treat people with covid 19. Just like any hero my grandma wears her uniform and her clothes as a hero.

This is by no means the end of the art and language project; it is just a snapshot of an ongoing cycle.

Desiree Bashi said, " We have so much going on and so many languages and cultures to share and learn from."

Bashi Desiree is the author of " Sekuru and the Girl with her leaf" and " Dancing with your Eyes". She has run intercultural workshops at Full House Theater, Black Archives Museum in Brixton, Laburnum, Primary school in Sandy, South Friern Library, Haringey's Library, Alexandra Park Library, Wood Green, Marcus garvey, Edgware Library, Burnt Oak Library, St Annes's library, Muswell Hill''s Library, Allfarthing school in Wandsworth, St Joseph's Catholic Primary and Nursery, School in Putney, St Anne's school in Wandsworth, Wilson Edward school in London, University of Bedfordshire, University of Liverpool and Wandsworth Public Library. The project is the result of five years of research exploring intercultural literature and sharing diverse art across the country.